A Journey of Faith
"I
remain amazed at what God has done. It looks to me like, if we follow the trail of guidance the Father leaves in the clues of daily life, we, and the children we care for, are heirs to a legacy of miracles."
- Gary Priour, Founder of HCYR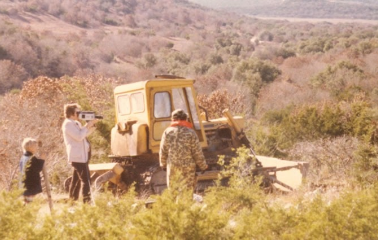 Campus #1 | In 1976, Gary Priour donated 107 acres of family land to give the Hill Country Youth Ranch its start. The Ranch was officially incorporated in March of 1977, receiving tax exempt status as a 501(c)(3) charitable organization at the same time. With the help of community volunteers and generous donors, development began in earnest.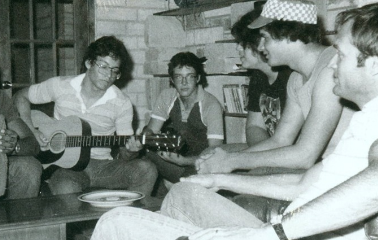 The first decade saw the Ranch expand to a capacity for 60 children housed in eight family-style residences on a 265-acre campus. The Ranch also built administration and counseling buildings, a general store, a community center, a gymnasium, a playground, a garden, an orchard, a barn, a library, and a chapel.
Campus #2 | The second decade saw HCYR become a program-enriched village for up to 80 children. HCYR opened a Training Center for certifying childcare workers and an Assessment Center to help severely traumatized youth. A greenhouse, a woodworking shop, a swimming pool, a ropes course, and a fine arts center were added. Licenses were gained as a Residential Treatment Center and a Child Placing Agency during the early 1990s.
Oma Bell Perry donated 7,050 acres of land, what we now know as Big Springs Ranch for Children in Leakey, Texas. Building starts almost immediately; read more of her story below.

Campus #3 | Our third campus, Enhanced Horizons for young adults was added in 2008. The Cailloux Foundation purchased & donated a 40 acre campus, with 20 buildings, including 8 residences, school & administrative buildings, a community center, and a mechanics shop.
Capacity for all three campuses reaches 100 children and young adult.
Priour attributes the success of the "miracle valley" to faith, focus, and perseverance. Says Priour, "We have a saying, 'one ticket to the customer'. We've always stayed committed to our mission, and God did the rest."
Gary Priour, founder of the Youth Ranch, graduated from Harvard University in 1969 with a major in English Literature. He taught high school and college before devoting himself full-time as a single parent to the care of his 2-year-old son. His involvement with abused and abandoned children began in 1972 when, at his day-care center in Portland, Oregon, a mother left a 3-year-old girl for whom she did not return. He has been involved with the care of such children ever since.
Gary returned to his hometown of Ingram, Texas, in 1975, to ask his father to carve out a small piece of family land for the purpose of building a children's home. Gary remembered many boyhood hours of exploring on the land where the Youth Ranch now stands. His father agreed to the gift, but with the stipulation that Gary surrender his part of other land in exchange for an early inheritance.
A love story followed the gift. There was no money, but unexpected resources were offered. Builders came as volunteers. Community leaders gave endorsements. A telethon was hosted on local TV in 1978 to raise funds.
A design larger than anyone could grasp seemed to enfold the project. Contributors would "happen by" at just the right time. Needs were always met.
"My mother and sisters and I decided a long time ago that this ranch would be a children's home." — Oma Bell Perry
Oma Bell Perry, with her mother and two sisters, came to settle the Upper Frio Canyon, where the Frio River begins, in 1928. Oma Bell was 15. The family would ranch the rugged canyons, carving out a living raising goats and cattle, for 75 years. None of the daughters married, and before their mother died in 1970, they agreed on a plan to give the land for a children's home. Oma Bell's two sisters both died in 1986, and Oma Bell was left to fulfill the family dream.
Oma Bell spent ten years visiting various organizations throughout the U.S., finally choosing the son of another hill country ranching family, Gary Priour, who had founded Hill Country Youth Ranch 50 miles away in 1977, to accept the challenge. The year was 1996, and Oma Bell would live long enough to see children playing in the river and studying in the charter school, experiencing the healing qualities of the beautiful land for which she had spent her life caring.
Miss Perry, great grandniece of Stephen F. Austin, Father of Texas, believed that history would prove that the health of a civilization depends on the quality of its investment in its children. She has certainly made her contribution to that cause.